Madrigals Christmas Sing Feast
Madrigals Christmas Performance in Fair Park on December 11, 2020
Tupelo High School Choir [Madrigals] hosted a home show for a limited audience. Performers had to wear special masks adjusted to be more comfortable for singers. The show was held in Fair Park three times in the second weekend of December 2020. Haley Frederick interviewed some of the singers for Golden Wave Media to find out more about their experience throughout this school year.
"Sing feast was very different from last year's. We could not host the banquet as we usually do, but getting dinner at The Grill before the feast was my favorite moment of this school year. It was a time when the choir bonded and got to know each other a little bit more." said Aaron Gholson.
"The sing feast was different this year since we got to do it outdoors, but it was also my favorite time of the year," said Mari Claire Milstead. "The whole choir got together and rode downtown to see different places and sing carols." She also added that "During practices, we have to wear a mask, and it's a bit uncomfortable. We are not able to perform like we normally would with all Covid-19 restrictions put in place."
"Getting to spend time with my classmates at the rehearsals and just goofing around was my favorite part of this year. Wearing masks at the rehearsals is a little bit more of a struggle since we also have to socially distance, and thus it is hard to hear each other, but it's still as fun as always. Sadly I didn't go to sing feast because I had COVID," said Daniel Robins.
Haley also asked the singers about their costumes. Aaron Gholson said that his outfit was inspired by the Renaissance period, it is heavy, and it can get hot in. Mari Claire Milstead, on the other hand, adores hers. Her dress was made last year, and she made it herself. "I picked out fabrics that I liked and took them to the dressmaker Mrs. Carol. We chose the style we liked the best, and she worked her magic and put it all together." Lastly, Daniel Robins's costume has a blue color. His costume is made by Daniel's skillful grandmother.
The performance met a great response from the audience.
Leave a Comment
Your donation will support the student journalists of Tupelo High School. Your contribution will allow us to purchase equipment and cover our annual website hosting costs.
About the Writer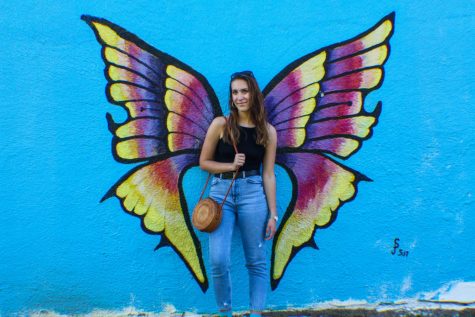 Anežka Pechová, Golden Wave Media Staff Member
Hey! My name is Anežka, but most people call me Agnes. I love exploring new things and places. I just crave adventure. I love writing, art, music, traveling,...