The Sound of the Script: Student Puts Their Musical Passion to Paper
Music is an essential part of our lives. The music of multiple artists resonates within people's hearts, allowing them to connect and express themselves. No matter which side of the microphone you are on, it can be the most incredible medium of expression. Tupelo senior Jack Sanders took his passion for music and let it blossom into an extraordinary yet unexpected gift for all the world to see.
Sanders decided to combine his passion for writing and turned it into his most ambitious passion project to date; a music review website under the name Sunset Scripter.
"
For as long as I can remember I have loved both literature and music. Sunset Scripter is a mesh of my two biggest passions, analyzing music and writing.
— Jack Sanders
During COVID, everyone had a lot more time on their hands than they knew what to do with, Sanders decided to take this time to nurture his love affair for music and analytical writing. 
"I would say I have always just had a passion for literature, and I've always found myself exploring the music I enjoyed. I thought, no better way to take time off my hands when I didn't want to feel bored. Maybe it'll open up some opportunities." Sanders said.
Even though Sanders listens to music artists from various genres, Hip-Hop and the artists within is where most of that cultivated passion lies.
"I would definitely say Kendrick Lamar, My Chemical Romance. Earl Sweatshirt, Jenko, Tyler, The Creator; mostly just hip hop. [It inspired me]." Sanders said.
However, the only thing Sanders seeks to accomplish through Sunset Scripter is to pursue his passion.
"I don't do any of it for publication or to gain anything from others. It's more of something I do for my own passion. It's something I can look at and say, well, that's something I was able to accomplish, and that's something that I was able to put my passion towards." Sanders said.
At the time of this writing, Sanders has written multiple compositions publicized on Sunset Scripter. These compositions come in the form of interviews, general papers, Q&As, music analyses, and more. 
Sanders has interviewed artists such as Scuba Diver and ArmstrongWW. Sanders is set to interview Willie Nova, Frank Sativa, and many others in the future. Out of all the interviews and articles Sanders has written, there is one paper that Sanders is proud of,
"I'd say that [Storytelling: The Lost art of Music] has made me very proud," Sanders said.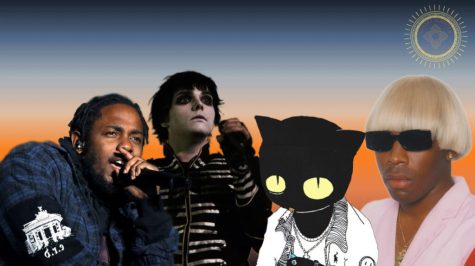 The way that Sanders has composed Storytelling: The Lost art of Music is unlike any other article close to it. The articles move the listener to the opposite side of the microphone, no longer being on the listening end. It reconnects the listener to the true art form that is might be lost in the waves of the melody.
Even though Sanders writes for Sunset Scripter out of passion, he has one intent in mind.
"The goal is to tell people that you have a website and that you do these reviews or you write these essays, and it's not about getting people to read it. It's just people telling people about it," Sanders said.
Sanders hopes to motivate others to cultivate their passions and to encourage them not to be afraid of potential failure.
"Not everything you do has to be approved by others, just to focus on what you genuinely want to do," Sanders said.

Leave a Comment
Your donation will support the student journalists of Tupelo High School. Your contribution will allow us to purchase equipment and cover our annual website hosting costs.