Bucket of good deeds
Transition class focuses on character and work skills.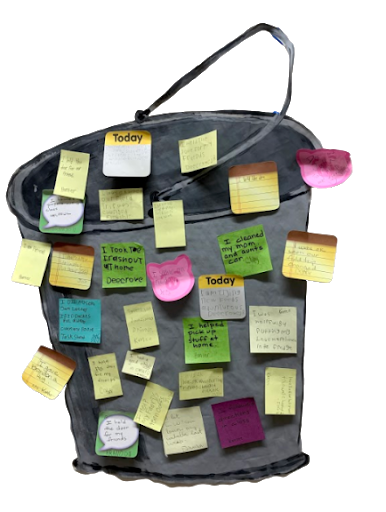 If you walk in one of the little alcoves of A building, you will find a "bucket" covered in sticky notes with statements such as "I held the door for my friends" and "I had a good attitude in class."
The Bucket Challenge is a project that Kathy Anderson's class began to showcase the use of good character traits. The goal of the challenge is to make sure that each participant fills up the buckets of their peers with good deeds. Participants also try to not empty another's bucket by doing something hurtful or negative.
Anderson says this activity seeks to teach her students how to apply the character traits they learn about in class.
Each good deed has a tangible action as participants place a sticky note on the bucket reinforcing the lesson at hand.
For Anderson's class "the biggest thing they remember is holding the door open for people."
Over time, the students forgot about the bucket but continued to use those traits. They now incorporate those character traits without having that need for the reinforcement of putting the sticky note on the board. Students learn to develop their socialization skills and use the positive traits they discussed in class.
Anderson teaches a transitional course for young adults from 18 to 21 years old with special needs. Students learn work and social skills that help them transition into a more independent lifestyle.
"The program gives [students] the skill set they need to be successful and independent once they leave the school environment," Anderson said.
This program ensures that they have the skills to survive once they leave Tupelo High School where they have the guaranteed support of teachers and their peers. It improves the success rate of them gaining independence, enabling them to get jobs, function in the community, interact with others, and access community resources.
It also gives students the opportunity to go into the community and practice the skills they learn in class.
Anderson found that her students learn best by applying these skills in real-world settings. Along with virtual job-shadowing online, the students began to take part a series of career-exploration field trips in January where they visit places such as nursing homes and day cares to learn about different occupations.
They get the chance to meet people who can tell them about what they do, where they work, who they work for, and what training they need. Students get a chance to volunteer their time to help others.
In addition to the work that students  do in the classroom, they also use these skills in their own homes.
"It is very encouraging and makes me very happy when parents say, 'My child did this. I didn't know they knew how to do that," Anderson said.
Another thing she noted is the program's impact on the world view of her students. She recalls how one of her students had always wanted to be a dishwasher and after learning about different occupations, realized he could be much more than that. He is now exploring so many more options.
"They realize that there's a whole world out there. Up to now, I believe their world has been home and school," Anderson said.
About the Contributor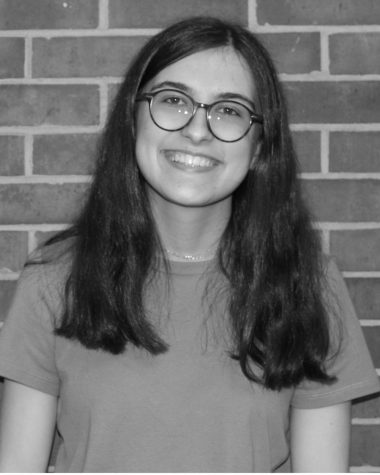 Nicol Milev, Album Staff Member, Website Guru
My name is Nicol Milev. I love Vampire Weekend's new album, reading and chocolate chip cookies. I feel inspired, grateful and passionate. I need more...