Construction class begins work on tiny house.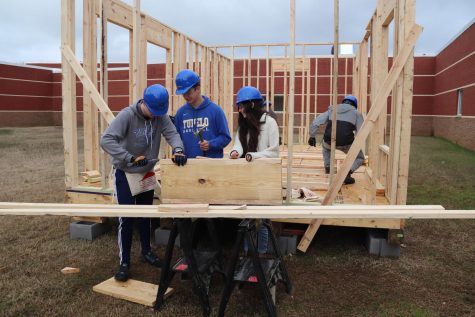 UPDATED: Feb. 26, 2020.  The class has started putting up walls on the tiny house.
Feb. 14, 2020.  The CTE Construction class has begun work on a 12 foot wide by 24 foot long tiny house. It will be one bedroom with a full bath and a kitchen/living room combination.
"We're going to use hammers and nails, the old way of building things, so we get a good understanding of what it takes to build a house from the ground up," Bridges said.
The class expects to work on this the whole semester.
[When finished "we're going to put it on the website, auction it off and hopefully somebody will get to live in it,"] Bridges said.
"Maybe we can build another one next year off the profit of this one and have another way of helping our students by making it the competition with Skills USA, and give them a heads up on getting to a career."