Tupelo XC ends season 4th at State.
Pontotoc Invitational Cross Country Meet – October 17, 2020 & State Meet in Clinton – November 2, 2020
"My personal goal is to be the best team in Mississippi. For that, we would need to beat Oxford. We worked ourselves up a lot this year by outrunning teams like Corinth, Saltillo, and Ocean Springs after many years. This week is going to be hard. We will work out a lot, train mileage, and do track exercises," Coach David Wheeler said prior to the state meet.
"It is always important to be prepared, especially during this time. Not only we need to worry about twisted ankles, but also about runners getting exposed to COVID-19. I need my whole team to keep working, so the runners are prepared to step up and take place in the state meet, in case someone falls sick. We had a really good year so far, but there is still more to get." Wheeler said.
The state meet was held on Monday, November 2, in Clinton, Mississippi. The Tupelo Guys Cross Country team placed 4th overall with an average time of 17:32.
Senior Chris Eskesen looks back at his carrier. "My favorite memory will have to be at my first race in 7th-grade, which was at the Memphis Twilight event. It was the race where I discovered I loved running and that it was something I would want to do for a while. When the race started, I sprinted out really fast, which is something you don't need to do, and the rest of the race was trash. I remember thinking I was hurting a lot, and I just wanted to walk, and eventually quit running. However, when I got to the finish, I saw the Tupelo parents yelling at me to go, and from that day after the race, I started loving running."
"My favorite memory was winning the Tupelo Invitational in 2015. The favorite race would be the 2019 Pontotoc Invitational because it was a fast course. This meet is also at the end of the year, so it's a great chance to get a new personal record. This year was the first one since 2013 that we have had a serious chance at winning State Meet. As a team, we have steadily improved." said Lincoln Jones.
"Being a part of this team has been a great effort to my results of the season. They were supportive throughout the entire season and helped me get to where I am. My favorite meet would have to be the state meet because I not only ran under 18 minutes, but I finished 4th on the team. My favorite memory of my athletic career was when I was in the top 7 on my team during my first year of running. I was getting new personal records for almost every race." said Bryce Weaver.
"The team made me who I am today," said Marcus Little. "The best race for me would be the 2018 Pontotoc race. I set a personal record for my 1 mile, 2 miles, and 5k time, which is very rare. However, my best memory is always going to be the State Meet in 2019."
"Saltillo Invitational was my favorite meet because that was my first time going sub 17 [faster than 17 minutes] in a 5k and one of my best races this year. Being on the XC team has been a journey from 7th to 12th grade. I have had my ups and downs in the sport. Cross Country has shown me that nothing is impossible and that you can do anything that you set your mind to. I want to thank my coaches and teammates for this rewarding journey on the XC team. They are the reason why I am where I am today with my running." said Christopher Eskesen.
"We had a senior recognition this year at the Tupelo Invitational. The senior recognition was held during the middle of the season [for the] first time in my memory. The senior recognition [had to be] done outside because of the COVID-19 restrictions. The students got a senior blanket with their name, and their mothers were presented with a rose. We had photographers taking pictures during this special moment because it usually gets very emotional for the parents and other members of the students' families. I am glad that we got the Cross Country banquet scheduled for November, 10th. Seniors are usually presented with gifts so they get to remember their time on the team. The highlight of the evening is when seniors get to give speeches." said coach Wheeler.
About the Writer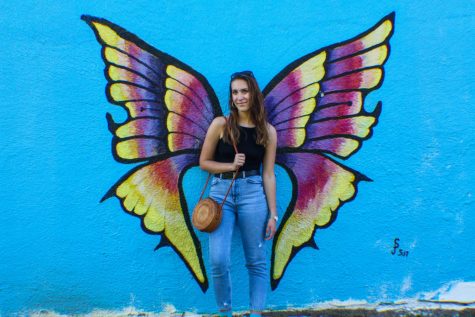 Anežka Pechová, Golden Wave Media Staff Member
Hey! My name is Anežka, but most people call me Agnes. I love exploring new things and places. I just crave adventure. I love writing, art, music, traveling,...