Tupelo Swim ends season proudly.
North Half and State Swim Meet in Tupelo – October 17, 2020 and October 24, 2020
The Tupelo Swim Team hosted both the North Half and State Swim Meets, at the Tupelo Aquatic Center on Saturday, October 17, and Saturday, October 24, respectively. The Guy's team placed 2nd and the Girl's team placed 3rd overall at both meets.
"Now we need to wrestle more, and finish the season as strong as possible," said coach Lucas Smith prior to the state meet.
Getting second place ended a 13 year winning streak for the guys team.
"It has been a great 6 years being on the team and it felt like we were all family towards one another," said senior Drew Edmonson. 
"I have done club swimming for Shockwave Aquatics Swim Team since I was 5, but in the past two years, I have moved schools so that way I could also be apart of Tupelo's High School Swim Team," senior Josie Thomas said. "It's been such an amazing experience being apart of this team! My favorite swim meet has to be our most recent High School Swimming State Championship Meet. This year was so crazy due to COVID-19, therefore it was rewarding to still see everyone, and be able to come together and compete. When I touched the wall and looked up to see my time. I knew I had worked all season for these goals and I had finally accomplished them. The swim team has two of the best coaches ever, and they love all of us so much!"
Due to COVID-19 restrictions, everyone attending, including the swimmers waiting on the deck, had to wear a mask. The number of spectators was limited to only two tickets per household and CDC social distance guidelines had to be followed between fans from different households.
About the Writer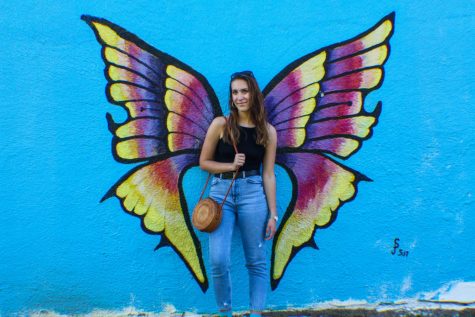 Anežka Pechová, Golden Wave Media Staff Member
Hey! My name is Anežka, but most people call me Agnes. I love exploring new things and places. I just crave adventure. I love writing, art, music, traveling,...