Welcome Wavely!
Wavely is a golden doodle who is an emotional support dog at Tupelo High School who is in training to eventually help students with mental struggles. She will create a positive atmosphere for students and teachers.
Once Wavely has her therapy dog certification, she will be able to help students who may be having a hard time either because of anxiety, depression, trauma, etc," Anne Goad said. 
Wavely will be there to help students who are having a hard time. She will be at the school to brighten everyone's day overall better and happier. 
Wavely will start coming to campus more often during the next school year. 
" Wavely is coming on campus about once a week or so in the afternoons. She is still a puppy and is still in training," Goad says. 
Wavely is still in training to get more certifications in order to be fully present on campus and ready to help students on campus. Wavely is being exposed to the campus so that she will be ready for the upcoming school year. 
            Mrs. Goad was the one who brought up the idea of getting a therapy dog for school, she saw how other schools were doing it and was wondering how it could help the students at THS. 
"I approached Ms. Katie Schaefer, 9th-grade counselor, about the idea and she loved it and was a huge help in helping me research and write a proposal for Wavely," says Mrs. Goad. 
Without the support of the principals, we wouldn't be able to bring something to the school that has never been there before. 
"The next step in our training is the earn the CGC (Canine Good Citizen) award and then the therapy dog certification through Love on a Leash Therapy Dog Association," says Goad. 
She continues to speak about how soon Wavely is expected to get her certifications.
 "I anticipate her getting these certifications by June. So, she should be ready to be more of a presence on campus in August," says Goad. 
Teachers are allowed to make recommendations for students to see Wavely. 
"Students and teachers will be able to make requests to have counseling sessions with her in hopes that she will be able to help them open up and release whatever is troubling them," says Goad.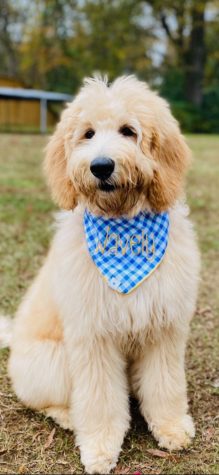 Leave a Comment
Your donation will support the student journalists of Tupelo High School. Your contribution will allow us to purchase equipment and cover our annual website hosting costs.