United States removes travel restrictions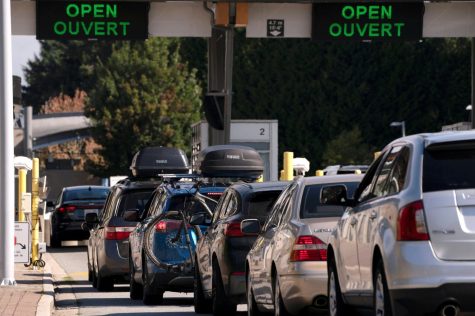 Captions:
People are able to cross the border after US travel restrictions are lifted.
Why did the borders close in the first place?
On March 21, 2020, the United States temporarily limited the inbound land border crossings from Mexico and Canada to "essential travel" hoping to stop the spread of COVID-19.
The U.S. has restrictions on visitors, including a ban on tourists driving into the country from Canada and Mexico, which will be lifted on Nov. 8, but only for fully vaccinated travelers, as well as a ban on all tourists (but not U.S. citizens or lawful permanent residents of the U.S.)
Why are the US borders reopening?
"Reopening to international visitors will provide a jolt to the economy and accelerate the return of travel-related jobs that were lost due to travel restrictions," said U.S. Travel Association President and CEO Roger Dow in an interview with CoStar.
Why is it important for US borders to reopen?
Krystal Morales and Biri Gonzales from Tupelo high school said it is important for the US to open the borders so family members can finally meet each other and people can be able to start a new life and get better opportunities.
"My dad's grandma, I've never met her," Morales said about her grandma that lives in Mexico.
"Cross-border travel creates significant economic activity in our border communities and benefits our broader economy," U.S. Department of Homeland Security Secretary Alejandro Mayorkas said in an Azcentral article. "We are pleased to be taking steps to resume regular travel safely and sustainably."
What does reopening the borders mean?
The pandemic and travel restrictions negatively affected many of the businesses near the border but after a year of residents asking the Trump and Biden administrations to reopen the country, all travel restrictions will finally be removed helping those small businesses bounce back.
The lifting of the travel bans will signal a new phase in the US's recovery from the COVID-19 pandemic and mark the reopening of the country to all travelers and tourists after the country closed its borders for almost 19 months.
When is the US reopening the borders?
According to the rules outlined by The Department of Homeland Security (DHS), from November 2021 visitors to the US wanting to enter for 'non-essential' reasons —that include visiting friends and family, tourism, and shopping— will need to demonstrate proof of being 'fully vaccinated' at the border.
As of January 2022, all visitors wishing to enter the United States, regardless of whether they are traveling for 'essential' reasons or not, will need to demonstrate proof of being 'fully vaccinated' at the border.

https://mx.usembassy.gov/travel-restrictions-fact-sheet/#:~:text=The%20United%20States%20will%20temporarily,pm%20on%20October%2021%2C%202021.
Omicron update: When will international travel return? A country-by-country guide to coronavirus recovery

https://www.costar.com/article/214477844/us-hoteliers-optimistic-as-borders-reopen-for-non-essential-travel
https://www.texastribune.org/2021/10/13/us-mexico-canada-border-reopen/
Leave a Comment
Your donation will support the student journalists of Tupelo High School. Your contribution will allow us to purchase equipment and cover our annual website hosting costs.