Fall Sports Teams celebrate their seniors
As the fall sports seasons end for senior athletes, the pressure is on as they prepare to play their sport on the next level or to end this era in their life.
"It's a great experience to work so hard and then come out with a great routine" senior cheerleader Olivia Handby said. "I was planning on doing cheer in college for the longest time just because I still loved cheer and will always love cheer. However, I've decided against it just because I want to have a break and close this chapter of my life."
Participating in sports through high school and college takes a lot of commitment and a lot of sacrifices.
"I have played football for over 11 years and although I haven't committed anywhere yet, I do plan on playing throughout my college years," senior football player Deon Shumpert said.
Christian Simpson has swum for the same amount of time as Shumpert has played football. Both sports require a lot of time and effort to meet your goal and accomplish what you have been working for.
"The most difficult thing about my sport is the sacrifices I have to make to show up to practice and put the time in to be able to meet our goals by making better times or placing," senior Christian Simpson said.
Simpson, like most athletes, sacrificed a lot of time with friends, time studying, and time with family to be able to get to this point where he is able to go to swim at the collegiate level.
Team bonding is a big deal for many teams at Tupelo High School.
"My favorite memory from cheer other than competing would probably be how much time we spend with each other and team bonding, it has really made us become a family," Alivia Buchanan said.
Seniors have become older siblings for the lower-classmen on their teams. Senior night can be hard for a great number of seniors and lower-classmen because of this.
"My favorite memory is the senior night because it's the last home game that I played on the Renasant Field at Tupelo High School," Shumpert said
"I'm probably gonna miss Christian Simpson because he's my brother. He's been my best friend for 15 years and he's always been there for me through thick and thin and he's always helped me through swim. I think that his leaving is going to be awful for me and for the whole team" freshman swimmer Carter Simpson said.
Other students also felt seniors on their teams led them well and helped them grow.
"They've helped me grow and they've helped me have fun. I'm going to miss Tobias, Lanauda, and Livi the most because they have been my best friends" freshman cheerleader Macy Dean said.
"I'm [going to] miss them leading team stretches and being leaders on our cross country team," freshman cross country runner Channing Hooper said.
An important aspect of team bonding that people forget about is the coaches. They build bonds with their seniors so when it's time for them to go, the coaches feel like part of their family is leaving.
"I would say is it's my first senior class that there's a real close connection with. Last year when I got the job I came in the summer in the middle of COVID. And this is the first group of guys I've had a full year full of everything, I consider them actually my first Senior class because of the circumstances of last year" head football coach Ty Hardin said.
"The most difficult thing is always just working on new rotations and filling in their spots and trying to find the upcoming players to serve the roles that they served," head volleyball coach Laurie Bishop said.
Leave a Comment
Your donation will support the student journalists of Tupelo High School. Your contribution will allow us to purchase equipment and cover our annual website hosting costs.
About the Writer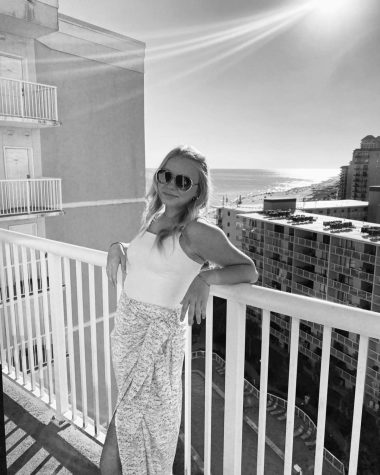 Emmy Dean, Wave Media Managing Editor
Emmy Dean, 2021-2024 Managing Editor, is a senior from Tupelo. She enjoys spending time with her family and baking in her free time. Her favorite quote...