Lady Wave makes it to the semifinals
The Tupelo girls basketball team gets the opportunity to travel to Jackson to compete in the semifinals against the Biloxi Arrows. The team won against Horn Lake in the quarter finals with a score of 58-51. This game meant a lot to the players and they got to prove their strengths on the court and beyond. 
"[The game that stands out is] Horn Lake because they trashed talked us on social media. So we had to use that as motivation. And we came to play hard and took the [win]," senior basketball player, Ganae Mcallister, said. 
The team has come with many traditions for pre game warm ups. Through these traditions the team bonded and many became close friends.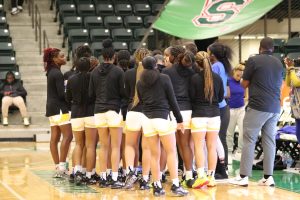 "One of our traditions before a game [is that] we always listen to music [that] always gets us hype. We also pray, [we] gotta [stay] calm get ourselves together," junior Maniya Kirksy said. 
The team looks forward to the semi finals and have set goals for each other and the team as a whole. A main part of setting goals is persevering and the team is dedicated to making sure they meet them to improve themselves and each other.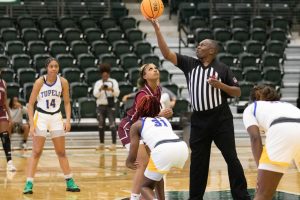 "[We have to stay] logged in every day and focus on going hard and practice," Senior Peyton Hearvy said. 
The seniors have played a big part in the success and encouragement of the team. They try to be role models for the girls and  have strived to improve themselves and others around them. 
"I could say a struggle [would]  be becoming more of a leader and being like that senior role model for the younger players because where I came from, I came from Oxford, and [it's] my second year here, so I really wasn't like the loud person that I am kind of now. So that was kind of a struggle for me trying to be more vocal," senior Audria Houston said. 
The coaches have been encouraging the players to stay focused and are dedicated to helping them achieve success on the court and beyond. They are grateful for the seniors becoming role models for the players.
"Well, we have a large group of seniors, we have five seniors and they've just been really special this year. They've really bought into what we're trying to do. And they set some really good goals and have met all of their goals at this point in the season," head coach Matt Justice said.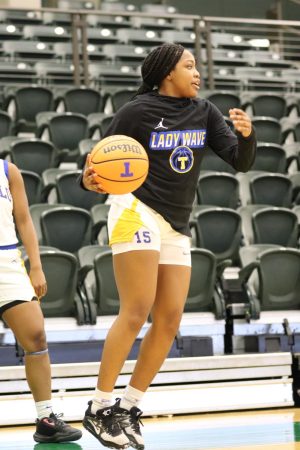 The coaches also recognize the commitment the teammates have to each other on the team and how that improves the team on the court. . 
"I think our team chemistry has been better than it's ever been. They are not only teammates, but they're really close friends. And so when you have that it makes your team really special," Justice said.
Leave a Comment
Your donation will support the student journalists of Tupelo High School. Your contribution will allow us to purchase equipment and cover our annual website hosting costs.
About the Contributors
Kara Graham, Associate Editor
Kara Graham is an editor for Wave Media. She has always had a passion for writing and often writes poems and reads in her spare time. She is the recipient...
Ashton McCoy
Ashton McCoy, 2023 Wave Media Freelance Photographer, is from Tupelo, but his hometown is in Palmetto, MS. He was doing photography for WM last year outside...