Business Class Brews Up Opportunities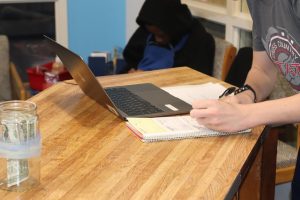 Mrs. Krauss's business fundamentals class opened up a school-funded coffee shop for all staff at Tupelo High School. Krauss wanted a space for her students to have real-life job experiences before they left high school and went into the real world.
"I was trying to figure out how I could run a business for my students because I had done business simulations online and class group projects and they just weren't giving me the involvement that I wanted out of my business kids," Business Brew instructor Katie Krauss said.
Through the business Brew, students are able to have hands-on experiences in dealing with problems that will happen in their future jobs without having to sit at a desk or listen to a lecture to learn about them.
" I want kids to be excited that this is not a class where you sit and get information but,  a class with real-world experience," Krauss said.
The experience of working an actual job not only teaches students how to run a business but also important qualities for just being a good employee.
"I feel like it's definitely taught me a lot about responsibility by having to take initiative, waking up early since you have to be there to be opened at like 7:30,  multitasking, and wearing a lot of hats, because sometimes people don't show up for their shifts and you have to fill in roles where they're needed," junior Hannah Hill said.
"Not only are they getting day-to-day business operations dealing with customers like customer service and stuff, but within the classroom, [they're] getting experience behind the scenes and learning what it takes to run the business as a whole," Krausss said.
The process of being able to not only start a school business but being able to get all of her students involved was a long and hard one. There are so many rules and regulations on school food and drink. The school is not allowed to sell or give students anything that is not approved by the child nutrition laws, along with the fact that you can only pay with cash which made it hard to come up with a business that could be successful.
"I wrote a grant for a coffee shop, but was told by three different administrators that it would not make because it was food and drink, so when Dr. Thomas came in October and told me that we had actually gotten the grant we begin to get started. From there, as soon as the money from AEE was deposited, we created our Sam's list and within probably three weeks, we had a soft opening mid-October and then we did our grand opening in November" Krauss said.
Although it took a while for the business to get started Krauss and her students have had a lot of success with the business and support from staff.
" It's already going great. Teachers are really involved and supportive of it. And I just want that to continue since we have really honorable customers," Junior Harrison Wampler said.
The business has done very well so far and Krauss and her students expect great things from the shop and have lots of goals and plans for the future.
"My kids our thinking about expanding our menu items after spring break and then possibly working together with the culinary program. But I think our hope in the end is to make enough to give back in a manner that is good for students in general. Some of the ideas we've passed around are coats and hats donations for kids who can't maybe afford them on their own, or maybe sanitation stations around campus where you can go and get soap, and deodorant and toothpaste, and things that maybe you can't get on your own," Krauss said.
Leave a Comment
Your donation will support the student journalists of Tupelo High School. Your contribution will allow us to purchase equipment and cover our annual website hosting costs.
About the Contributor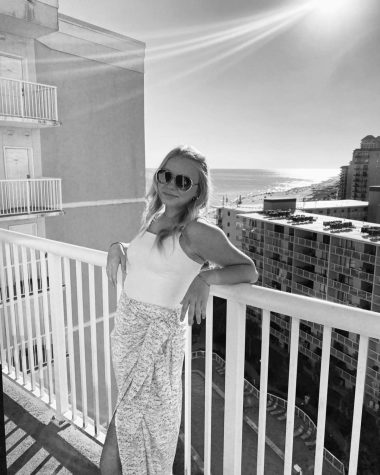 Emmy Dean, Wave Media Managing Editor
Emmy Dean, 2021-2024 Managing Editor, is a senior from Tupelo. She enjoys spending time with her family and baking in her free time. Her favorite quote...