Tupelo High School hosts journalism fair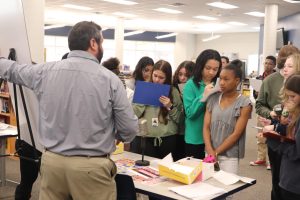 Quill and Scroll honor society has hosted its very own 4th annual journalism career fair, showcasing different pathways for aspiring journalists in high school. Booths featuring news companies such as the Daily Journal, WTVA, and WCBI were all on display for students to learn about.
The Mississippi Radio Group started with roots going back to 1941. Radio personality Andy Lee was there to represent the booth. 
"We've got two legs to our operation. One is playing music and the other is sales," Lee said.
Even with being such an old and advanced radio station, Lee says it has never been easier to start a radio station such as theirs now. 
"All you really need is a cell phone and an internet connection," Lee said.
Alan Pegues, the founder of premium productions, agrees that you don't need to start with fancy equipment to be effective.
"One of the things that I've told to young people is that it's not so much the camera, as it is the operator," Pegues said. "The operator can finesse a cheap camera and make the video look amazing."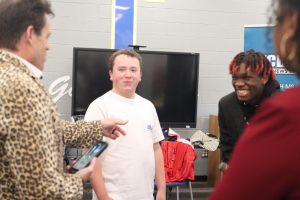 Pegues also believes that journalism is different now because of modern technology. Starting his journalism career in WTVA, he moved on to his own company and quickly noticed the changes as his company got older. 
"Social media changed the game," Pegues said.
 To Pegues, young people can help produce content that will reach many more people, and at a more effective rate as well.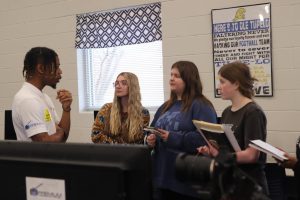 Pegues has also grown his company through networking and hospitality. 
"For you to know what I have for sale, you have to know about it," Pegues said.
 In addition to building your connections, making sure your company's image is well presented will also be your key to success.
Adam Armour and Blake Alsup, are news editors and reporters respectively for the Daily Journal and offered words of encouragement for aspiring journalists.
"If you've got a natural curiosity, and a love of storytelling and writing, I'd say this is a great field to go into," Armour said. 
Armour started small for the Ottawa County Times in 2005 and worked his way up to the Daily Journal, honing his skills to become the journalist he is today. 
Alsup graduated from Ole Miss and moved to New York to pursue a big journalism career, but found out it wasn't for him.
 "I wanted to come back to the south and work for a newspaper where I could write stories that mattered for local communities," Alsup said.
Alsup used his experience to give advice to the upcoming journalists.
 "If you want to go into print journalism or even digital journalism, just read as many news articles as you can from as many different news sources as you can to get an idea of different styles." Alsup said.
Different students of different journalism classes learned different tips and tricks to use in their respective crafts.
"I talked to a guy who was in charge of a radio station, and I'm hoping to help with a radio station in WTHS," WTHS sophomore Ivy Kate Benjamin said.
Junior Ashton Mccoy from digital media enjoyed the pathways and especially enjoyed the Premium Productions booth after making a connection.
"Journalism has all sorts of categories that I didn't know about," Mccoy said.
Yearbook's Bella Maka was infatuated with mirrorless cameras that could create a different approach to photography, as well as techniques for her own benefit.
"He gave me tips on how to build my portfolio for college and competition," Maka said. 
Students walked away from the event with lots of examples of journalism to absorb and use for their own journalism hobbies, and most say they benefited overall.
"It was just a fun experience overall," Benjamin said.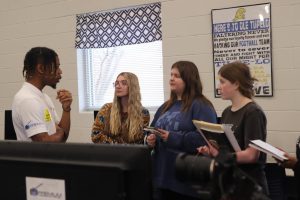 Leave a Comment
Your donation will support the student journalists of Tupelo High School. Your contribution will allow us to purchase equipment and cover our annual website hosting costs.
About the Contributor
Jevon Edwards, Senior Copy Editor


Jevon Edwards is a Senior and reporter for Wave Media. He has been with Wave Media for three years. He enjoys writing and working with people...