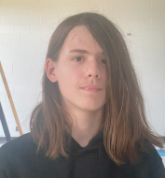 Dylan Willis is a freshman student at THS who is currently getting acclimated to his new school surroundings.
"The idea of going to a different environment entirely, something different from middle school, is what I was most excited about," Willis said.
When making his class schedule, Dylan was most surprised by the increased number of options that were available to choose from.
"High school gives me a lot more options on what I can choose from than middle school and the atmosphere is different," Willis said. "They offer classes that we didn't have in middle school, options that we've never seen before."
Dylan's favorite class has been exploring computer science
"I enjoy exploring computer science because the teacher is really nice and it's an enjoyable class," Willis said.
Going into the year Dylan was not expecting much, but so far he has been pleasantly surprised.
"I was generally surprised with the teachers and the students. My previous teachers told me [high school] would be miserable but so far it has been better than any school year I've had" Willis said.
Dylan plans on joining the chess and strategic games club to learn more about and play some of the games that interest him.