THS rocket team has a blast
Bryan Kwag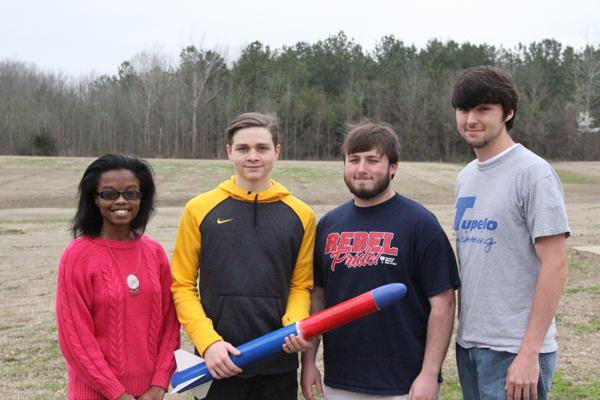 Samantha Ratliff, Hi-Times Staff Writer
March 20, 2015
Tupelo High School is trying to get as close to the moon as it can with its rocket team.
"We compete, design and build rockets," said junior Timothy Fortenberry, a member of Ester Potts' Aerospace Studies class.
Potts started the rocket team at THS after working with similar programs at the Monroe County Advanced Learning Center and New Site High School. Aerospace Studies is a yearlong class, not a club. Though the class does launch rockets, they also do a little more.
The class has a lot of opportunities they wouldn't get anywhere else. Tupelo has the privilege of being one of the nine high schools in the United States to be a part of ExMass, a research project sponsored by NASA. If they qualify, students also have the chance to compete against the 100 best rocket teams in the Team America Rocketry Challenge in Washington, D.C. If they get to Washington, they'll launch once to compete and then launch a second time if they win.
"The goal in Washington is to have the lowest launch score possible," Fortenberry said. "The target altitude is 800 feet, and points are taken off based on how far off you are from the target altitude. If you're anywhere below or above the altitude points are taken off. Then if you beat the other teams the second time you launch the altitude is lowered 25 feet exactly. So you would have to have an altitude of 775 feet and they also lower the time two seconds."
Senior team member Christopher Wright added that the time should be between 45 and 48 seconds.
"For every second you're off, it takes off four points," Wright said.
Fortenberry said each rocket's payload is an egg that weighs between 55 and 60 grams.
"It has to be on board the rocket and not crack or break on the landing," Fortenberry said, adding that the rocket has to separate into two pieces and land separately.
He said the entire rocket has to be completely built by students.
"The only parts that we can't make or modify are the altimeter and engine," Fortenberry said.
If the team qualifies for Washington and wins, then they would be able to go to Paris to compete internationally.
"It's kind of difficult, but at the same time fun," said Matt Hodge, a senior on the team.