Tupelo Football vs. DeSoto Central 10.23.15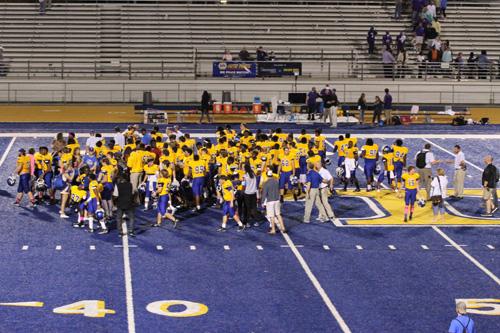 Keywanna Rogers, The Hi-Times, Staff Writer
October 26, 2015
Hang on for a minute...we're trying to find some more stories you might like.
The Golden Wave ended its three-game losing streak by defeating DeSoto Central at Renasant Field Oct. 23.
Kegan Huddleston ran 23 yards for Tupelo's first touchdown with 8:01 left in the first quarter. With a pitch from Daniel Bristow to Austin Watkins, Tupelo claimed its second touchdown with 2:49 remaining in the first. The first quarter ended with the score 14-7.
Tupelo's Donte Freeman rushed 2 yards for a touchdown with 10:27 remaining in the second quarter. Huddleston ran 46 yards for another touchdown for the Golden Wave. The half ended with DeSoto Central trailing 17-28.
The Jaguars got another touchdown in the third quarter making the score 25-28.
Bristow threw a 64-yard pass to Freeman, who then set up the field goal for Josh Smith, bringing Tupelo's lead to 31-25 with a little under 5 minutes remaining. DeSoto Central took the lead with a touchdown with 3:32 remaining in the fourth. Smith kicked another field goal to put Tupelo back in the lead with 23 seconds left. In the last four seconds of the game, Deshun Evans intercepted DeSoto Central's pass to seal the win for the Golden Wave.
The final score was 34-32. Tupelo will travel for division play against Horn Lake Oct. 30.