Tyler Berry doesn't let deafness keep him off the field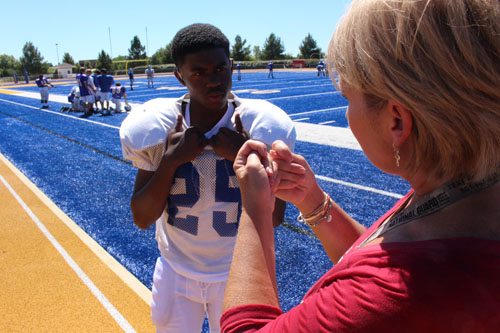 Karlee Avery, Business Manager, The Hi-Times
November 6, 2015
Hang on for a minute...we're trying to find some more stories you might like.
Tyler Berry does not let his deafness prevent him from playing the game he loves.
The Tupelo High School freshman was diagnosed with a bilateral sensorineural hearing loss when he was nine months old. He also learned sign language and started speech therapy at an early age and can read lips. At 13 months, Berry got hearing aids, which he wears under his helmet when he plays for the ninth-grade football team.
"There's nothing hard about it," said Berry, shrugging his shoulders.
In fact, his deafness may actually be an advantage on the field.
"He'll never be called offsides for a hard count," said Gloria "Ms. G" Jarrell, Berry's interpreter.
SNHL occurs when there is damage to the inner ear or to the nerve pathways from the inner ear to the brain, according to the American Speech-Language-Hearing Association website.Most of the time, SNHL can't be medically or surgically corrected.
SNHL is also the most common type of permanent hearing loss, but it's not that uncommon to be deaf and play a sport. Derrick Coleman, a fullback for the Seattle Seahawks, is the first deaf offensive player in the NFL. Tee Shepard, former cornerback for the Ole Miss Rebels, communicated with his coaches by reading lips and using hand signals, but not sign language.
David Clayton, an assistant football coach at THS, has gone the extra mile to help Berry by learning sign language.
"I'm trying to learn a little bit so I can make the conversation faster," he said.
Still, communicating with Berry does have its difficulties.
"It's a little bit of a challenge," said head ninth-grade football coach Chris Shoup. "It's a little bit different having a kid that's difficult to communicate with, being that I'm not familiar with signing. Having Ms. G helps with that. She's able to relay any information that we need so that definitely helps, but it's definitely a challenge."
Berry is new to football, Shoup said, but is one of the hardest workers on the team.
"He's a kid that hasn't played football before, so coming out, he's at a disadvantage having to learn not just what we do but just learning football period," Shoup said. "He comes out and works hard, doesn't complain, puts in work and does what he needs to do, and that's paid off for him because he's gotten to play a lot this year."
As a punt returner and corner for the Golden Wave, Berry has seen plenty of action.
"He's had a couple chances of punt returning," Shoup said. "He does a good job of catching. He doesn't hear any of the traffic coming, so that makes it easier. He catches it and makes a good return on it, and he's taken a couple licks on it and he's popped right back up. That was a worry for me, understanding that he was going to take a lick on it and he got right back up and wanted to go again."
His teammates have also taken notice.
"They encourage him," Shoup said. "They try to take care of him, and they cheer for him whenever he gets his opportunities and makes plays, so I think they get excited to know his situation and the struggles that he goes through."
Stephon McGlaun said the team is ready to help Berry in any way it can.
"We're really protective," McGlaun said. "If anything happens to him, then the team is going to come in."
Jarrell recalled the game against West Point, when Berry was tackled after catching a punt.
"About the time that he caught the ball, one of West Point's players hit him hard," she said. "When that happened, all of his team members were wanting to make sure that he was going to get up. One of his teammates said, 'You wait until the next play.' He was going to get that guy." "Playing with them is the most exciting part about being on the football team," said Berry through his translator. "I just like catching the ball and making tackles."