THS Theatre celebrates 30 years
Chael Williams, The Hi-Times, Staff Writer
February 5, 2016
Hang on for a minute...we're trying to find some more stories you might like.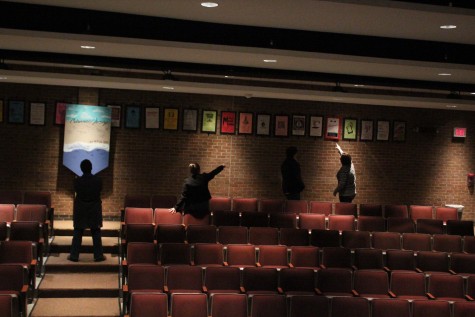 Chael Williams
To celebrate three decades of theatre, the current members of Thespian Troupe 1949 will host Tupelo High School Theatre's 30th Anniversary Celebration. The celebration will take place on Feb. 5 in the Performing Arts Center at 7:30 p.m.. Admission is free and the public is invited.
The event will include performances of songs and acting scenes from current and past cast members. Scenes from "The Music Man," "Crimes of the Heart," "Steel Magnolias," "Rumors," "Seven Deadly Sins," "You're a Good Man, Charlie Brown," and also various individual competition events from current cast members. A brief history of the THS Theatre Department and key people will be given.
Allana Austin, chairman of the THS Theatre Department, is in charge of the event and will also be directing the scenes and songs.
"I am most excited that all of the theatre kids are coming back to see what we have accomplished since they have been gone," Austin said. "We have casts going all the way back to 1998 to do scenes that were popular, so the current thespians can see what they did as well."
Past casts will be the ones performing the scenes from "Crimes of the Heart" and "Steel Magnolias," while the current casts will perform scenes from two shows they have put on this year, "Rumors" and "Seven Deadly Sins." Current students will also perform individual pieces. Current and past casts will come together to perform the songs "Trouble" from "The Music Man" and "Happiness is…" from "You're a Good Man, Charlie Brown."
The THS Theatre Department has been important to many students like junior Emma Gousset.
"The Theatre Department is a safe place where I can be myself and feel confident on stage, and it is where I have made some of my closest friends," Gousset said.
Gousset said she is excited for all of the former thespians to return and perform, and she is also anticipating their reaction to current thespians' performances.
Gousset will reprise her role of Chris Gorman from the show "Rumors," and she will also sing "Climbing Uphill" from the show "The Last 5 Years."
Also at the 30th Anniversary celebration, the directors will discuss the upcoming show "Absolutely Murder," which will be in late April in the THS  small auditorium. This show is significant because it was the first show to ever be staged by the THS Theatre Department when it was established in 1986.
Current theatre students see this as a unique way to connect to past theatre students.
"To be a part of THS Theatre in general is a huge honor and blessing for me," current theatre student Chera Jones said. "Being able to recreate the first show ever put on by this family is an even bigger honor."