Joseph Jones: Just a ball and a dream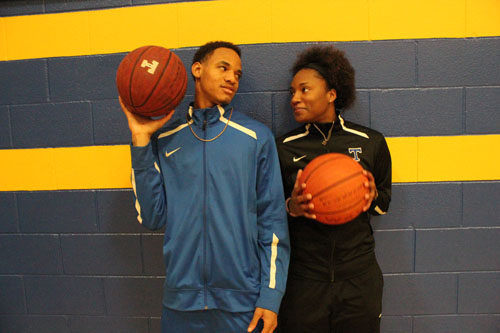 Hang on for a minute...we're trying to find some more stories you might like.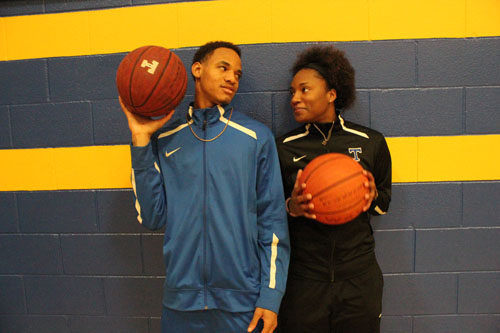 It's Dec. 9, 2014. The home game against Aberdeen is in the fourth quarter with a couple of seconds left on the clock. The bleachers are filled with Golden Wave fans and the air is filled with excitement. The Wave had caught momentum from the last few plays, and the score gap was widening. This game is one that guard Joseph Jones will always remember, and a game that one unlucky Aberdeen defender will never forget.
On a fast break the ball is passed to Joseph Jones, who then accelerated toward the paint. The crowd jumped in anticipation, screaming "Dunk it!" Jones proceeded to elevate from almost free throw range and viciously slammed the ball down on the goal–and the Aberdeen defender who decided to try and take the charge. Enter the world of Joseph "Dunk On You" Jones.
Jones hasn't always dominated the hardwood. At one point, basketball was the last thing on his mind.
"I wasn't always interested in basketball," he said. "I didn't start until the eighth grade. I used to play football and they were like, 'Joseph you need to play basketball.'"
Jones was added to Tupelo's basketball roster during the beginning of his junior year at the guard position and immediately started having a major impact in key games at crucial times. He averaged an impactful 14 points and three rebounds a game during his first three recorded games.
Although a high-profile, explosive starter on Tupelo's roster, Jones' major notoriety did not occur until a video of his powerful dunk went viral with more than 2,500 views on YouTube. Within a month of its release, the video was featured on MaxPreps' "Play of the Week" and "Top 10 High School Dunks of 2014-15" segments. Most notably, the video was featured on USA Today's High School Sports page.
"No words could explain how I felt after," Jones said. "So much happened so fast. My adrenaline was running and I just didn't know how to react."
With Division I colleges like Ole Miss and multiple community colleges courting him, the 6-foot-1, 165-pound phenom has quite the hype to live up to, and Jones said he feels he rises to every expectation of his nickname.
"The nickname stands pretty strong, I got it for a reason," Jones said with a big grin. "Just know when I'm on the court, beware."
While very confident in his abilities, Jones still maintains the level of humility necessary to be an exemplary leader, but also productive teammate. He is in the gym every day working hard and striving to get better alongside fellow standout players like Tre Jenkins, Tygil Hereford and E.J. Fuller. After a hard-fought, one-point loss to Hernando on Jan. 19, Jones and the rest of the team are still optimistic.
"I feel like we've been a pretty good team this season," Jones said. "Coming off of this bounce-back loss, we're just trying to come together as a team and show people what the Golden Wave is made of."