Wave Track looks to improve on last season's progress
Hang on for a minute...we're trying to find some more stories you might like.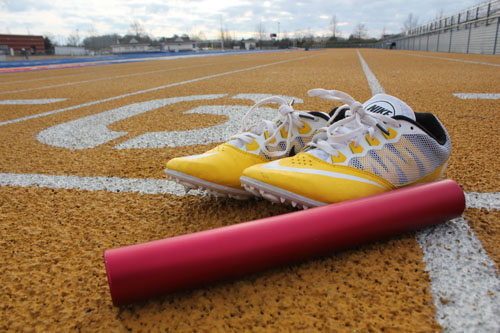 The clicking of a stop watch can be heard in the air followed by the sharp tapping sound of runners' spikes as they power down the straightaway. Heavy breathing, sweating and day dreaming about gold medals; these can only mean one thing, track season is finally here.
Starting in early February, runners practice after school five days a week. Braving weather in the low 30s at times in nothing but maybe a hoodie and sweatpants, they put in work every day with nothing but making it to state championships on their mind.
Although their track meet performances were very good last year, even having a state championship winner in the 300 meter hurdles, the Golden Wave track team faces many challenges this season. They have lost more than 10 seniors who were keys to the team's success.
On top of the losses, the retirement of long-time sprints and hurdles coach Fred Hadley and the replacement with new coach Brandon Jackson has added more to the list of the struggles of the 2016 season. Tylon Parker, a standout junior whose first season brought him within a second of Hadley's 400 meter dash record from 1984, is worried about the challenges that the team faces but is still optimistic about its performance.
"The loss of Coach Hadley is going to greatly affect the team, because he knew so much about the sport," said Parker. "He was a great coach. I think the team will step up to the plate though. We have a lot of great, young talent to mold."
Although there is a lot of young, raw talent available for this season, there are many vets returning. Tested competitors like Calvin Braddock, Jeremy Hinds, Shawn Wilson, RDarious Edwards, Reagan Cook and Reid Chapman are looking to create an impact and also make state championship appearances this season; most for the second time in a row.
The Wave's 4×400 meter relay team placed fourth, 300 meter hurdler Jeremy Hinds placed first, and high and long jumpers Shawn Wilson and RDarious Edwards both placed sixth respectively. This performance with so many first-year track team members shows that despite the many challenges the team faces, the Wave will come back with a vengeance this season. With the anticipation of a new season, new uniforms and new possibilities the runners are ready to tear up the track on the road to state again.
"I'm predicting a great season for the team and myself because we have more experience from last season and how to overcome our nerves," Parker said.