Homecoming Night 2016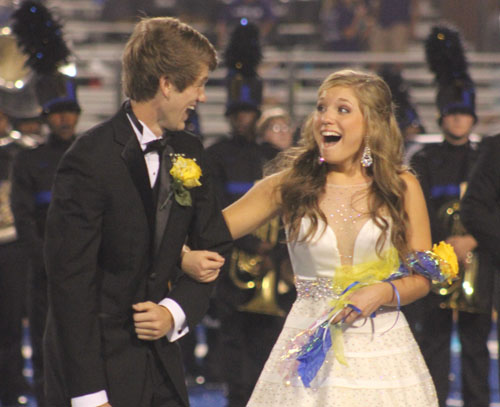 Advertisement
Hang on for a minute...we're trying to find some more stories you might like.
Homecoming festivities came to a close at Friday night's game against Hernando. During halftime, each maids, listed below, was presented. 2015 Homecoming Queen Walker Fortenberry returned to crown senior Lilla McGraw as the 2016 queen, and students came to support in their homecoming fineries with many community members present also.
The football team faced Hernando High School, with both teams coming in undefeated. Tupelo scored halfway through the first quarter with a drive from senior Austin Watkins. After forcing Hernando to a punt and a turnover, senior Donte Freeman scored another touchdown in the second quarter. Junior Josh Smith kicked a field goal from 26 yards away to bring the score to 17-0.
The score remained at 17-0 throughout the 3rd quarter, with a missed field goal attempt from Tupelo. The Golden Wave set themselves even further ahead with an early 4th quarter touchdown, followed by another with 2:05 left in the game. Giving Hernando their first loss of the season, Tupelo gained another win, making them undefeated at 5-0. The team travels to Columbus this Friday.
Homecoming Maids 2016 (seniors pictured below):
Freshman Maids:
Makayla Crayton
Massie Eckard
Allyssa Ferguson
Erin Matthews
Emily Womack
Sophomore Maids:
Ashlyn Anthony
Aubrey Betts
Cate Burroughs
Claire Burroughs
Alara Davis
Junior Maids:
Anna Kate Boyd
Jasman Mitchell
Lauren Taylor
Mary Collins West
Emma Rae Leathers
Seniors:
Jasmine Bean
Lexi Roberts
Aleria Story
Tayolor Witherspoon
Ashton Davis – Football Maid
Lilla McGraw – Queen