Three students one goal
Band Members Go International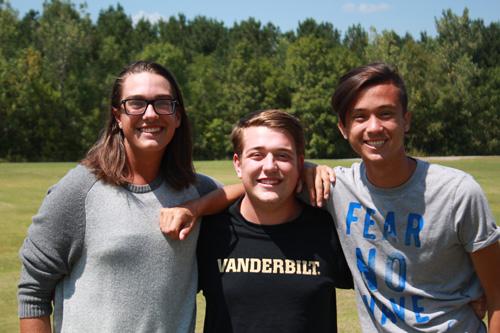 Advertisement
Hang on for a minute...we're trying to find some more stories you might like.
Last school year, three current students at Tupelo High School had the honor of auditioning and being accepted into the Mississippi Lions All-State Band. The Lions Band is a very prestigious honor band that is known all around the world. It is the most difficult honor band in the state of Mississippi in which to be accepted. Every year the Lions Club holds strict auditions in November for students in high school bands across the state wishing to play and perform professionally. Junior JD Dunklee, and seniors Mason Keopradit and Kyle Woodward were three of the 145 students from all over Mississippi to get accepted into the Lions Band and travel to Japan in June of 2016. All three students were determined to be accepted into the program and spent months practicing their requirements to prepare themselves for the challenging auditions.
JD Dunklee
Dunklee, head snare and section leader of the THS drumline, spent hours every day for two months working to perfect his given audition solo with the guidance of former drum instructor Darius Fant. Even at Dunklee's advanced position, he admits that the audition piece was very difficult at first.
"The solos are crazy hard and very fast. In high school, you never play super fast solos," he explained.
After auditioning his freshmen year and getting fifth-teenth chair for call backs, he worked and pushed himself even harder to be better than before.
"I recovered better than I did freshmen year. That year I had a frozen moment that was long, I promised to never do it again," he said.
A few weeks later, he realized how much the hard work paid off, being that he was chosen as a Lions Band bass drum player.
Mason Keopradit
Keopradit is the weapon lieutenant for the THS colorguard, and he too practiced daily, aiming for a perfect audition piece. He auditioned for Lions Band drum major two years in a row, getting accepted the second time. The drum major is required to be able to spin the mace in a professional 2 minute routine.
"You go and learn half of a routine and have to make up the other half," he said, "it took about two weeks to write the other half."
Keopradit is the first drum major from THS, since 1974, to be acquired in the Mississippi All-State Lions Band.
Kyle Woodward
Woodward is currently one of two drum majors leading the THS marching band in the 2016-2017 school year. He auditioned for the Lions Band on his contra alto clarinet and was accepted to play it during the final Lions Band concert after the band camp at Jones County Junior College in Ellisville, MS.
"Two separate prepared pieces were assigned, one was melodic and one was technical," he stated. "You also have to do all 12 major and chromatic scales in under three minutes and do sight reading."
During the parade, Woodward marched the banner in front of the rest of the band.
The main reason for the band's trip to Japan was to participate in the Lion's Con International Parade in Fukuoka, Japan. Participants in the parade consisted of Lion's Club members from Spain, Pakistan, Brazil, China, Africa, and more global locations.
In Japan, the band travelled to the island of Hiroshima, the island of Miyajima, Fukuoka and Tokyo, spending most of their time in Tokyo and Hiroshima. While in Tokyo, the band made a fun stop at Tokyo Disney. From staying at five star hotels, to taking every method of transportation possible, all three students agree that the incredible experience will be unforgettable.