THS introduces new Hi-Times Advisor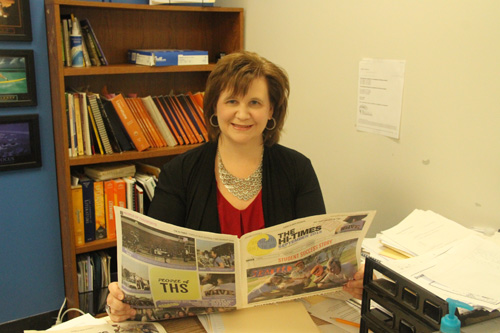 Advertisement
Hang on for a minute...we're trying to find some more stories you might like.
Tupelo High School is excited to introduce its new Hi-Times advisor, Stephanie Spires.
Spires has been teaching at THS for six years now. In 2010, she started as a long term substitute teacher, but later pursued her profession as a full-time English teacher in 2011.
Spires is originally from Batesville, MS, and she graduated from South Panola High School in 1989. She later went to Mississippi College in Clinton, MS for four years where she received her bachelor's degree in mass communication.
Although she has never taught a journalism class in all her years of teaching, she does have some background in broadcast journalism. She talked on a radio show in college for three years and continued for two more years after she had already graduated. It has been six years since she has done anything that involves journalism and is now ready to begin her journey as the new advisor for the THS newspaper.
"I love the thought of marrying the two" said Spires. "I have enjoyed teaching English these past few years at THS, and I'm grateful for the opportunity to transition back to my experiences as a reporter and bring them into the classroom."
The Hi-Times staff only has one goal and that is to be the absolute best newspaper! Now that they have a new advisor, things have changed a little and the staff is smaller compared to last year's. On a brighter side, this year's staff consists of both familiar and new faces.
"Working with the Hi-times staff has been a wonderful experience so far." Spires said. "It is a small staff, but everyone works so hard. I appreciate and depend on the expertise of veteran staff members, but I also admire the eagerness to learn new things that I see in those that are new."
The Hi-Times won best newspaper last year,  and plan to continue being so.
"I am optimistic about the possibility of the Hi-Times winning awards at the Mississippi Scholastic Press Association in the spring." Spires said. "Several members of our current team have won awards in the past, so I think our chances are pretty good."
Spires is determined to continue to carry out the newspaper staff's goals and make sure that the Hi-Times team is headed to the next level while staying on track.