Athletic Haven From Storms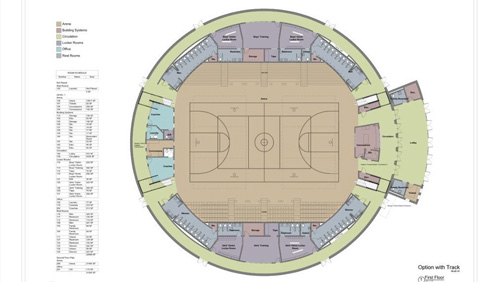 Advertisement
Hang on for a minute...we're trying to find some more stories you might like.
This fall Tupelo High School will be breaking ground on a new gym that will serve a dual purpose as both an indoor athletic facility and a storm shelter. The facility will be built near the art building. This 24,000 square foot multi-purpose will serve as the new basketball and volleyball gym as well as a registered storm shelter to protect students from such threats as heavy thunderstorms and tornadoes, that may occur during school. The gym will be able to hold around 4,500 people at a time, making it the largest building on the campus.
"The new facility will be used for a multitude of different activities," said THS Sports Informant T. Braden Bishop, "With the old gym reaching almost 25 years old, THS deserves a new building that can serve as a new athletic venue as well as a protective structure during emergencies."
The new facility will be a much needed upgrade from the gym we have now. After 25 years, a new facility is just what this school needs to get pumped up about basketball. This is very similar to when the football field was given blue turf. It caused the student body, as well as the community, to rally and support the football team with excitement. The same effect is expected with this new basketball facility!
The Mississippi Emergency Management Agency, or MEMA, will fund the project, be key in creating the building and will pay for 2.1 million dollars of the total 6 million dollars, with Tupelo Public School District paying for the rest with approved 2014 bonds. Only a little less than $100,000 will come from local taxpayers.
Tornadoes and storms have always been a big threat to Tupelo and thus, the multi-building high school. Although the buildings at Tupelo are, in fact, very safe and sturdy, having a designated space for students to go in an emergency is a huge deal.
Three elementary storm shelters will also be built and serve dual purposes for either art, music, and or physical education classes. Each of these are about one million each, which will total three million for the elementary schools together.
Tupelo is moving to make schools safer for students, staff and for the community as well. The new facilities will be protective for all, while also being a beacon of hope, life, and fun for THS sports players, coaches, lovers and fans.